If you need to convert a simple PDF to Excel Spreadsheet, there are many free online PDF to Excel converters. Here is the normal process, upload the PDF file online, the website received the PDF document and converts the document from the cloud, and then ask you to leave an email address so they can send you the converted Excel file after conversion. Normally they will ask you to join their newsletter for receiving news or deals.
Ok, maybe we get enough promotional emails every day and don't want to leave our own email address. Are there any ways to convert PDF to Excel Spreadsheet without email? We searched and tested a few websites, and these websites do not ask for email and get the PDF to Excel conversion done.
This is the testing document which was downloaded from the Internet, a simple table listed the Top 100 US daily newspapers. It contains 2 pages and each page has two tables without any table borders. Let's see if the following websites can pass the challenge.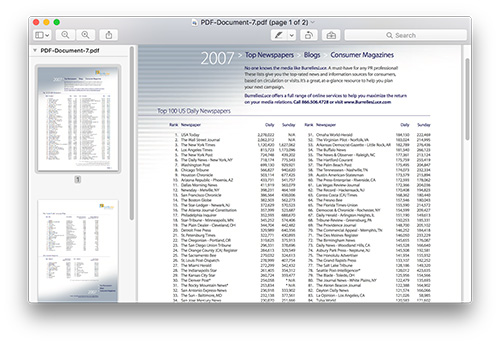 #1: CleverPDF.com
This PDF online tool is awesome, it can do lots of PDF jobs including PDF to Excel conversion, compressing PDF and a lot more.
The website is neat, all you need to do is drag your file to the file area or simply select a file from your computer by clicking the 'Choose File' button.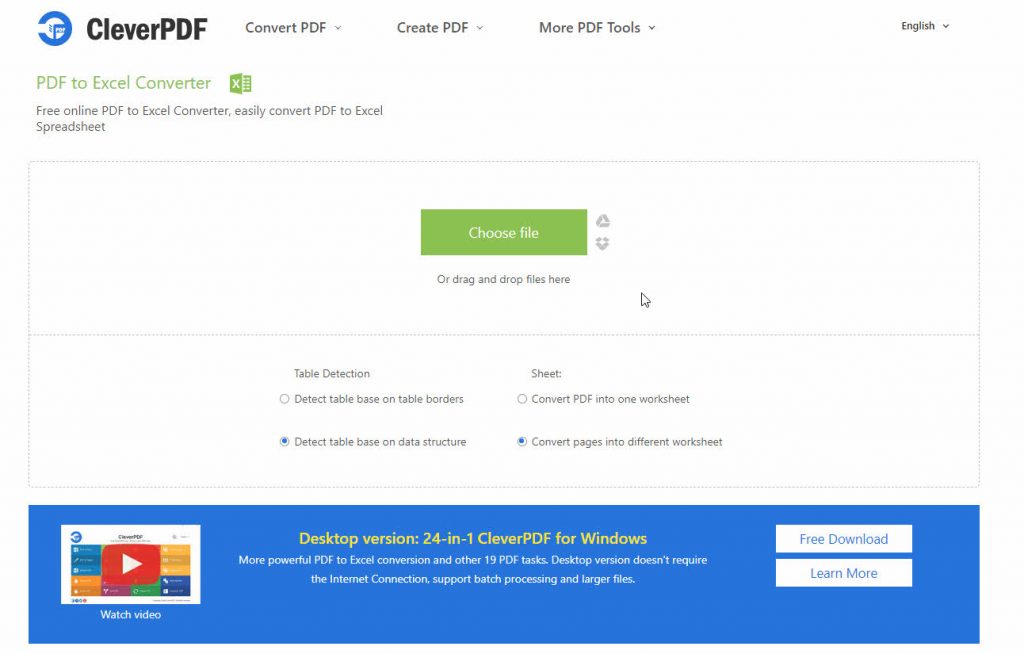 Select the correct output options depending on the table borders style in your PDF. And you can put all pages into one sheet or each page in different sheets, which is handy in some situations.
Click 'Start conversion', you can see uploading….wait a few seconds….converting….It takes only a few seconds, done! I'm quite impressed by the speed and user-friendly interaction. Now I can download the file instantly, without leaving my email address. I can also save the file to Google drive or dropbox. It converts PDF to Excel online without email.
Data can be calculated, the formatting is well kept. But the title row and row 1 'USA today' are merged into one row. Data is the most important in PDF to Excel conversion, we convert PDF to Excel mostly for easier calculating or organizing the data, so we can say this website does a great job, simply edit the first row we can get the data without manually typing.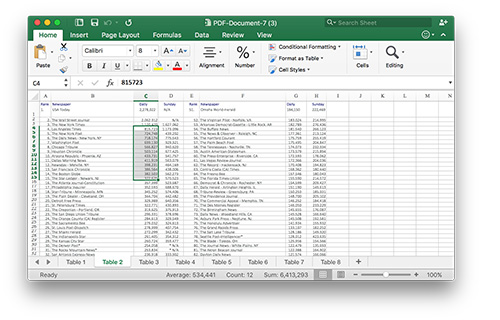 #2: Online2PDF.com
This website provides a free service of converting PDF into Excel. Simply Select PDF file from the local folder. Wait, not one file, it lets you convert multiple PDF files at one time. You can upload more than one PDF file. And you can enter the PDF password if the PDF file is protected by open password, or rotate pages before conversion. You can also merge files or convert files separately. But the 'Please note' section, you can see the limitations: Maximum of 50 Pages, and OCR is not supported. So this website doesn't support converting scanned PDF to Excel. Actually, all the online PDF to Excel converters listed in this article don't support OCR conversion.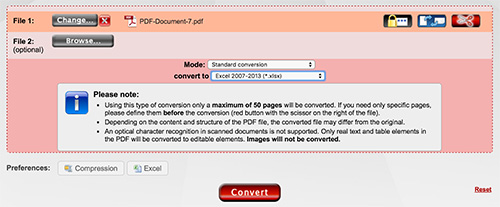 After clicking on the 'Convert' button, the files are being uploaded and processed. The uploading and conversion take about 1 min. Then it says 'Task finished, the download will be started immediately. It doesn't ask for email address, and the file is downloaded to the local folder automatically and instantly.

Let's see how it works, the rows and columns in the output Excel file looks a little bit complicated and messed up. But the main table is well converted. We can calculate the data in the converted Excel Spreadsheet. The same problem as CleverPDF, the first row is merged with the Title row, you need to modify the content manually after conversion.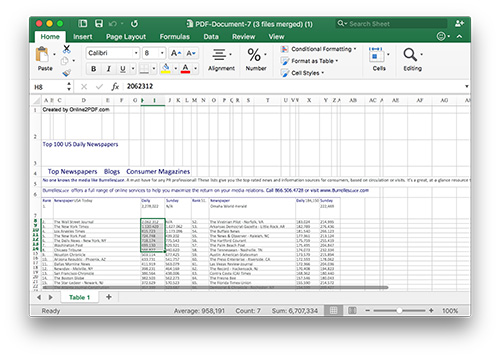 #3 Docs.Zone
Another free online PDF to Excel converter without email. Just select the PDF file and it will convert PDF to Excel online instantly. Then you can download the PDF file without submitting your email address. But it has limitations, if you don't sign up, seems that it can only output two pages.
And let's see the result, the formatting is kept, but not able to calculate the data because everything is put in one cell instead of separate cells. For those normal PDF files with clear table borders, this website can do a better job. But when it converts the PDF without table borders, the result is not as good as the online PDF to Excel converter mentioned above.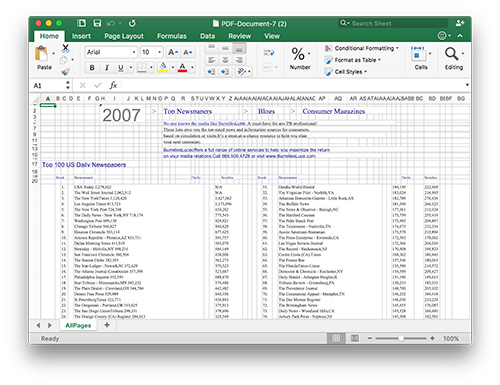 #4 PDFtables.com
This website looks great, simple and neat without any display advertisement. You can convert 50 pages for free, and if you want to convert more, you can purchase more pages. Just like all the online PDF to Excel converters mentioned above, the first step is uploading your PDF file, then it will convert the PDF to Excel spreadsheet instantly. And it will show the output result directly online, so you can decide if the output meets your requirement before downloading. Click 'Download Excel' button, you can select the output formats, including Excel (Single Sheet), Excel (Multiple sheets), CSV or XML. It doesn't ask for email address, you can download the Excel file directly after PDF to Excel conversion.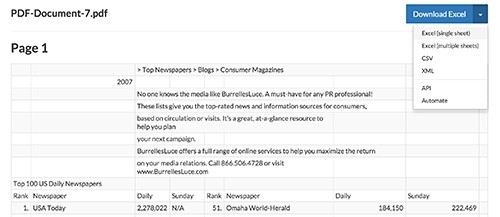 The output also looks good, data is well converted and you can calculate the data without problems. It doesn't keep the original formatting, but as we said before, data is the most important in PDF to Excel conversion. If a PDF to Excel converter can put everything in the right cell and the data become editable and calculable, we can say it's a good PDF to Excel converter.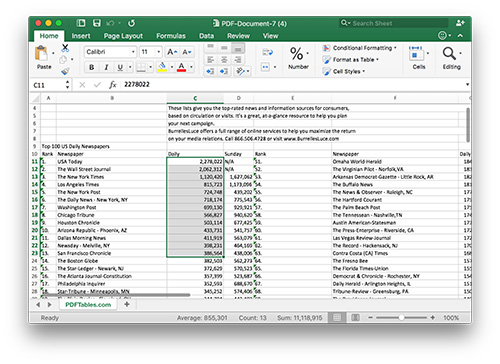 #5 Lighten PDF to Excel Converter
Well, this is not an online PDF to Excel converter, we believe users can easily tell the advantages and disadvantages of online and desktop apps. Online PDF to Excel conversion is convenient, cross-platform, you can convert PDF to Excel if you can get access to the Internet, and you know the risk of uploading your PDF file online. Although online services are reliable nowadays, some users still worry about uploading confidential and personal information online. And you can't control the conversion process, and customize the output setting with online PDF to Excel converters. So if you need a desktop PDF to Excel converter that actually works, and lets you handle the most complex PDF data, please take a look at this one.
Mac and Windows versions are available.
PDF to Excel for Mac >>
It takes only 3 quick steps to convert PDF to Excel automatically, simply add a PDF file, select output setting and output folder, and click the 'Convert' button. It can convert PDF to Excel instantly.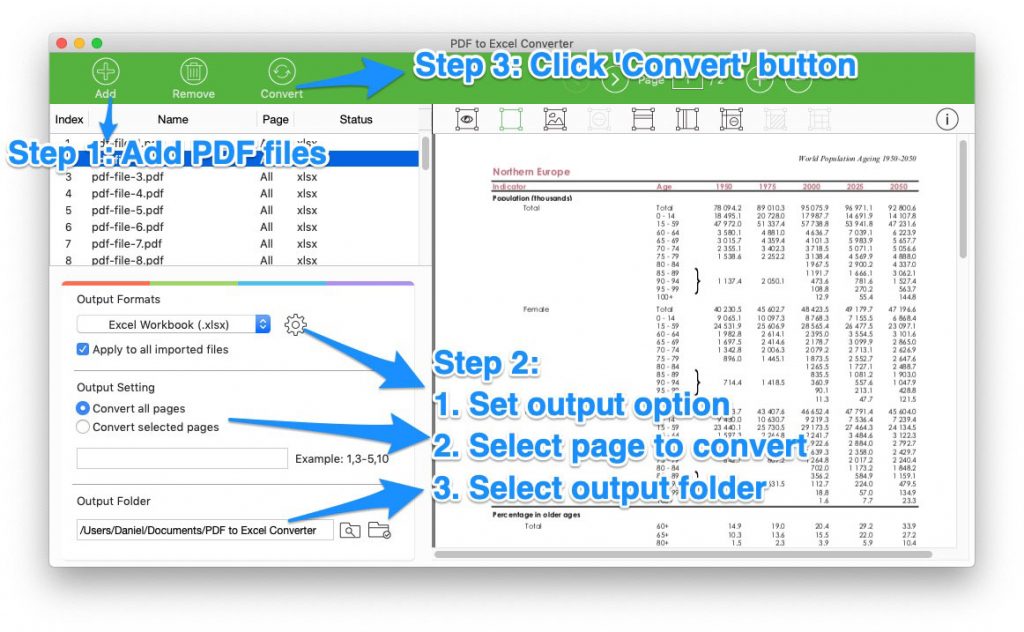 Click the 'Setting' button, you can customize the output setting, you can convert all pages in one-sheets, or convert pages separately. You can keep the original PDF formats or keep data without formatting. You can select two different ways for table recognition. You can also manually mark table areas by adding columns or rows, merging or splitting cells. So if you found the row 1 and title row are merged into one, you can split them easily.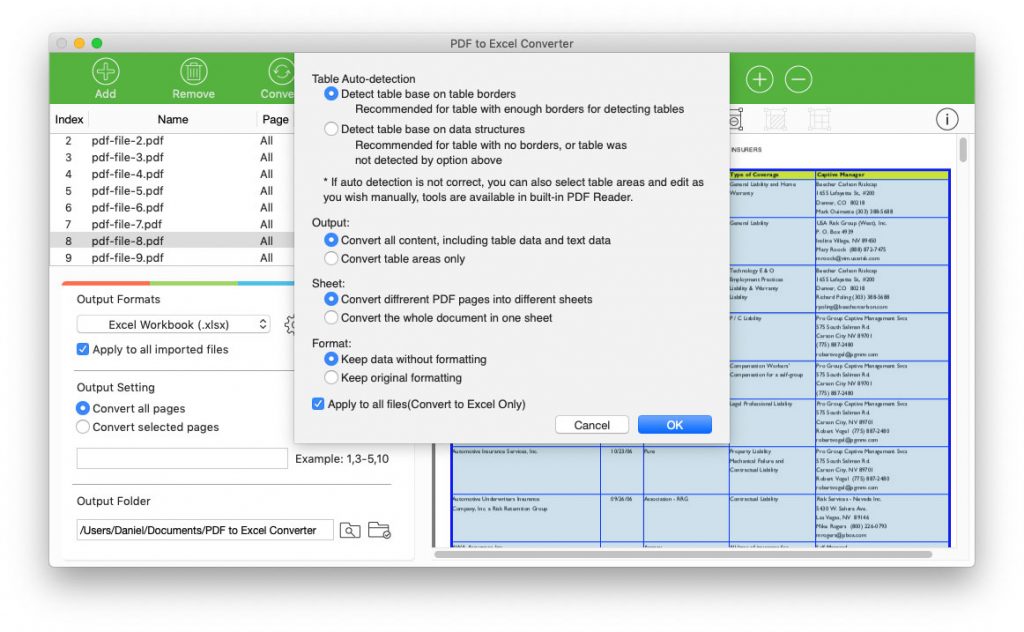 Let's see the output Excel spreadsheet, clear and neat, the data is editable and calculable.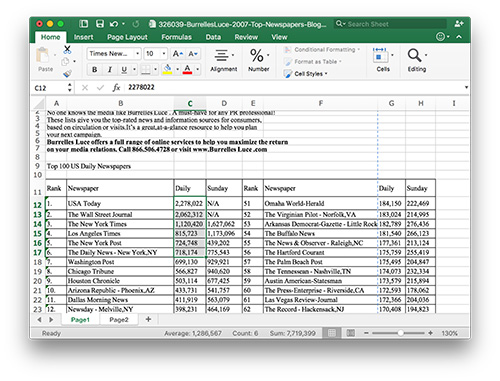 If you want to learn more about converting PDF to Excel with Lighten PDF to Excel converter, please read this tutorial: