Version 3.0.0 is the latest version, if you are using former version 2.5.0, please read this tutorial.
What is Lighten PDF Creator Master for Mac?
A lightweight and simple application that creates PDF files from image formats, including jpg, jpeg, png, bmp, tiff, tif, gif, psd etc. Besides images, you can also convert txt or merge PDF files into one PDF file quickly.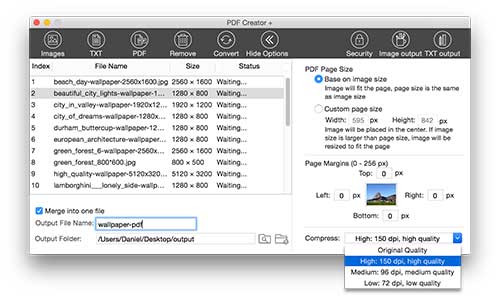 Working with Lighten PDF Creator Master for Mac
It takes only 3 steps for creating a PDF file from images, txt or PDF. Simple add files, set output options and click 'Convert' button.
1. Add Files

You can add images files, txt or PDF file, choose a filetype and click the certain button on the toolbar. Finder will show up and then you can select files from Finder. Support following image filetype: bmp, tif, tiff, jpeg, jpg, png, tga, psd, gif. (Unsupported file type will be grayed out).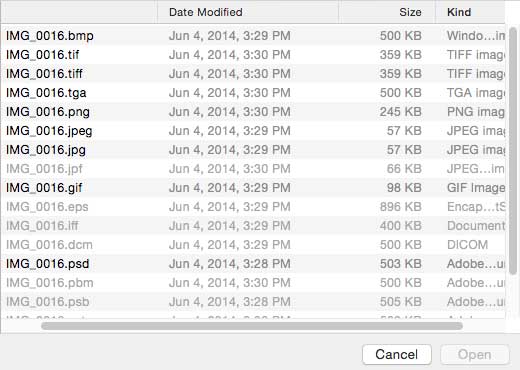 Click "Remove" to remove an unwanted item.
Files will be imported, select a file, you can move up and down, sort the files in right-click menu.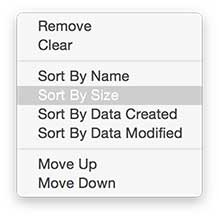 2. Select the output options
After adding the file, check 'Merge into one file' if you need to convert all the added files into one PDF. Uncheck it each file will be converted into an individual file after conversion. If you check 'Merge into one file', you can also set the output file name.

Click the 'Show Options' button, you can see output options on the right.
Image Output: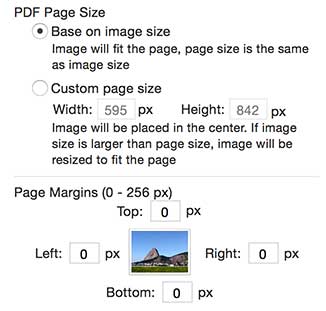 Base on image size: PDF page size will be the same as the image size.
Custom page size: input the page width and height as you wish, the default value is A4 page size.
Page margins: If you don't want any margins, set the value to 0 px. The image will fill the whole page without any margins.
(for example, if you set the page size 800 px * 600 px, and set left and right margins 10 px. Then the output page size would be 840*600. )
If your original image is large, the output PDF file size would be large. You can select a compress option before conversion. It reduces file size mainly by reducing the image dpi and quality.
TXT Output:
You can also set page size and margins when you create a PDF file from plain text (.txt) file.
Security Setting:
You can add meta information to the PDF you create. Such as Title, Author, Subject or even keywords.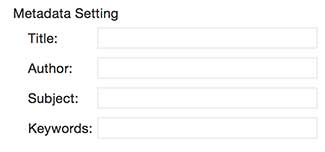 If you worry about the security of the PDF you create, add an open password or printing/copying restrictions to your PDF files. Please note that open password can't be the same as the owner password.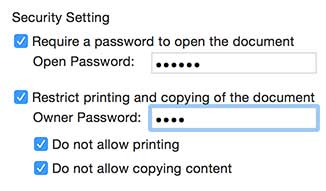 3. Create PDF
Click the "Create" button, the conversion will start immediately, all you need to do is to wait a few seconds for the output PDF files.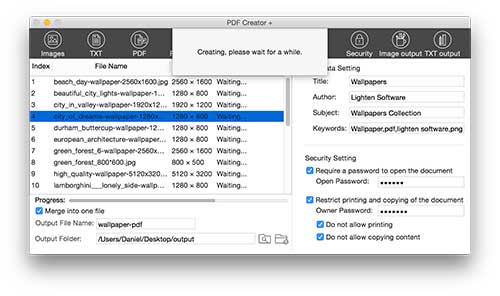 System Requirement
Mac OS X 10.7 or later
Technical Support
Should you have any questions regarding the use of Lighten PDF Creator Master for Mac, please contact us via support[at]lightenpdf.com, our customer service will reply to your questions ASAP. Thanks.